Tour Options:
Add the 3 night New Orleans Group Package to the front or back of your Cajun Country Tour.
A unique inclusion in this program can involve the use of a Plantation Home in Natchez for overnight sleeping accommodations, rather than in a traditional hotel. Be carefully selecting dates that coincide with the Natchez Spring and Fall Pilgrimages, attendance at the Confederate Pageant presentation and Southern Exposure productions can be included.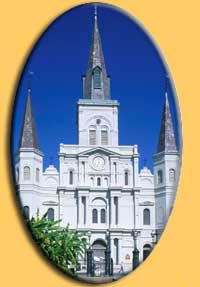 Cajun Country Louisiana
A Perfect Pre or Post New Orleans Itinerary

In the past 20 years, Cajun Country Louisiana has become one of the most popular visitor destinations in the State, having been discovered to be one of the most culturally rich and unique areas of Louisiana. The "Cajun" are descendants of the Acadians who fled from Nova Scotia to South Louisiana in the 1700s.

Pushed into international prominence by spicy rich cuisine, then recognized as well for fine music and unique language, the Acadian "Cajun" Parishes of South Louisiana are wonderful additions to any leisure group itinerary. Packaged in conjunction with Natchez, Mississippi, and/or the Mississippi Gulf Coast region, this itinerary is sure to be well received.

The most popular routing attaches a Cajun Country itinerary to the front or back of New Orleans three night program. With 2 nights in Cajun Country and another 2 nights in Natchez, Mississippi, a well balanced "Deep South" itinerary is created. This program can easily to be handled with arrivals by air or by motorcoach.

To view the 8 day/7 night "Deep South" itinerary , Please Click Here.